Zoover.nl7.1
Booking.com6.1
Expedia.nl6.8
TripAdvisor.nl5.0
Google6.4
totalReviews1,787.0
Hospitable hotel in Noorbeek
Welcome to Fletcher Hotel-Restaurant Bon Repos. This hotel is located in the South of Limburg in Noorbeek where you can find a scenery full of hills and valleys to enjoy an oasis of peace. The ideal base for a wonderful weekend away!
Located close to the Drielandenpunt
Peaceful environment
Restaurant with a beautiful view of Noordal
Set amongst a scenery of hills and valleys
Peaceful environment
During your stay at Fletcher Hotel-Restaurant Bon Repos, you can make use of our different facilities. After completing all of your activities, join us in our à la carte restaurant with regional products and dishes. On sunny days, we recommend enjoying a cup of coffee and a piece of Limburgse vlaai on our intimate terrace. You can also play a game of table tennis in the hotel.
We also offer teambuilding activities, as it is the ideal location to discover the area with a GPS-tour or bike over the Cauberg in Valkenburg.
Lovely stay in the South of Limburg
Fletcher Hotel-Restaurant Bon Repos has all the essentials to make your holiday or weekend away complete. Noorbeek is the most traditional village in Zuid-Limburg, so its beautiful surroundings is ideal for cycling- and walking routes. Via our garden you will find multiple walking paths to discover the nature reserve Noordal.
Our team warmly welcomes you!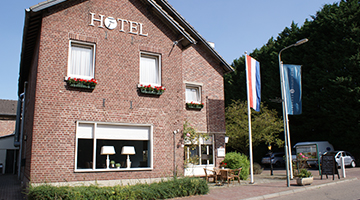 Photos and videos 
Do you already want to get in the mood before you arrive at our hotel? Check out the photos and videos of our hotel here.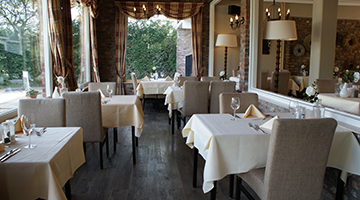 Restaurant Bon Repos in Noorbeek
In the restaurant you can enjoy culinary dishes, primarily made from local produce. From the restaurant, you have views of the beautiful Noordal nature reserve.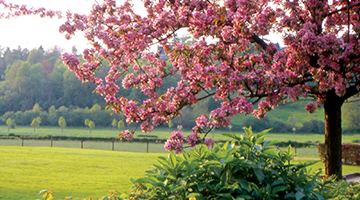 Discover the area
Hotel-Restaurant Bon Repos is located in a picturesque village with numerous meadows and woodlands. Green Noorbeek is located in the hilly area below Maastricht.